NV Access will be at the 38th Annual CSUN Assistive Technology Conference. We are presenting a session and would love to have you there:
Date: Wednesday 15th March 2023
Time: 3:20 PM (Pacific Daylight Time – note the change to summer time this weekend!)
Location: Grand GH
If you're coming here after watching the session, then firstly, thanks for coming! It was great to see you! If you were hoping to be there and couldn't, or if you were there and didn't get a chance to catch up with up, please E-Mail us.
This page has all the information from the presentation. There is extra detail on some points and links to more information and resources.
Table of Contents
Intro
The Presenters
Presenting at CSUN 2023 are:
Mick Curran (Executive Director & Founder)
James Boreham (General Manager)
Sean Budd (Software Engineer)
Quentin Christensen (Training & Support Manager)
About NV Access
Formed in 2007 by blind friends Mick & Jamie. Our goal is to support the development and longevity of the NVDA screen reader. NV Access champions a thriving ecosystem around NVDA. This includes: Training material, support, certification, add-ons, community. We advocate for access to technology for all, regardless of language, location or financial situation.
NV Access is a registered charity, overseen by a board of directors. Donations in Australia over $2 are tax deductible. You can find out more about our orgnisation and structure from our About NV Access page.
On the same page, you can also find a Description of the NV Access logo.
Our website is nvaccess.org.
NVDA
NVDA is a free and open source screen reader. It allows the user to "read the screen" via synthetic speech or Braille output via a refreshable Braille display.
NVDA stands for Non-Visual Desktop Access.
NVDA is Written by users, for users.
We have over 200,000 Users in more than 175 countries & 55 languages.
We have a page about NVDA which also includes a description of the NVDA logo
Advantages of NVDA
Free – no licenses!
Works with wide range of software
Portable
Synthesizer options
NVDA uses Windows OneCore by default. Windows OneCore is built into Windows 10 and 11 and is reasonably natural sounding. NVDA comes bundled with eSpeak-NG, a very responsive voice. People either love it, or find it sounds too "robotic".
Code Factory have an Eloquence & Vocalizer bundle. They also sell Eloquence as a standalone SAPI 5 voice which can be used with any program.
There are a number of other paid options as well. Tiflotecnia's Vocalizer synthesizer is an alternative to the Code Factory offering. Acapela, Cereproc, Harpo software are all paid offerings.
New Windows OneCore voices can be added by installing new language speech packs in Windows. Any SAPI 5 compatible voice should also be able to work with NVDA.
New features
What's new in NVDA 2023.1?
Some of the key features coming in NVDA 2023.1 include:
Paragraph Style (changes control+up arrow / down arrow)
NVDA+k reports destination of link
NVDA+d reports annotated web content (comment, footnote, etc)
Support for Tivomatic Caiku Albatross 46/80 braille displays and new Georgian, Swahili (Kenya) & Chichewa (Malawi) braille tables
Support for ARM64 and AMD64 versions of Windows has improved
There are many bug fixes, notably Windows 11 fixes
Updates to eSpeak, LibLouis, Sonic rate boost & Unicode CLDR
A release candidate for NVDA 2023.1 is now available. Unless any major issues are identified, this will be identical to the final build. So, we encourage all users to test it out and Give us feedback on any issues.
From the 2023.1 RC announcement, you can find the full list of what is new, and download the Release Candidate.
Other recent updates
There have been many exciting new features, fixes and improvements over the past year. Here are just a few (which will fit on a PowerPoint slide:
Quick Start Guide (2022.4)
Table say all commands: control+alt+arrows
Table jump to first last row / column commands:control+alt+pg up / pg dn / home / end (2022.2)
Delayed Character Descriptions (2022.3)
Improvements for consoles, Java, UIA support, Windows 11
Regular updates to eSpeak-NG and LibLouis
You can find the full list of changes in our What's New document.
The Quick Start Guide
Introduced in NVDA 2022.4, the Quick Start Guide is designed to get anyone up and running with NVDA in minutes. It includes:
Steps for downloading and installing NVDA
Running NVDA for the first time
Explanation and setting the NVDA modifier key
Common keystrokes:

Starting & Stopping NVDA
Reading text
Reporting information
Control what NVDA reads
Synth settings ring
Web navigation
James Boreham: NV Access and NVDA Sustainability
As General Manager of NV Access I am responsible for the oversight of Operations, Finances, Risk Management, Business Planning and Strategy in partnership with the NV Access team and Board. A major part of my role is looking for opportunities and implementing actions to ensure NVDA's sustainability.
We have put in place a number of actions to diversify and grow our income streams, to ensure NV Access and NVDA are around for the long-term. Microsoft, Google and Adobe continue to sponsor NV Access, and we work closely with them to ensure NVDA works effectively with their operating systems and software.
We have been working with likeminded blindness agencies, nonprofits, assistive technology support providers and government departments in different locations around the world to ensure that NVDA users have access to the support, training and resources they need to effectively use NDVA at school, at work, at University and in day to day life, in their local environment. We want to build on this and develop relationships with more organisations globally, to increase the support available locally to NVDA users.
Training, support & certification
NVDA Training material
We have a suite of training material available for NVDA: Basic Training for NVDA (Updated Sep 2021). The main training module for NVDA and the one we recommend most users start with. It covers concepts from getting started up to browsing the web and using object navigation. Available in Electronic Text, Human-read, MP3 Daisy audio and physical, UEB Braille.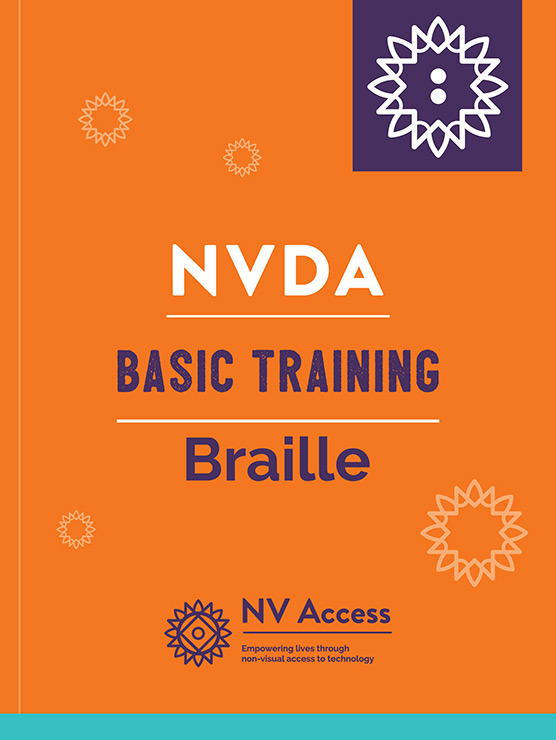 From "Basic Training for NVDA", the user can expect to learn:
Getting started with NVDA
Getting around Windows
Basic configuration
Writing and editing text
Document formatting
File management
Multi-tasking
Browsing the web
Forms on the web
Using the review cursor
Object navigation
Advanced topics
Navigating settings
NVDA setup guide
Also available: Microsoft Word, Excel, Outlook and PowerPoint with NVDA modules.
The Office modules work with any version of Office from From Office 2010 through Office 365.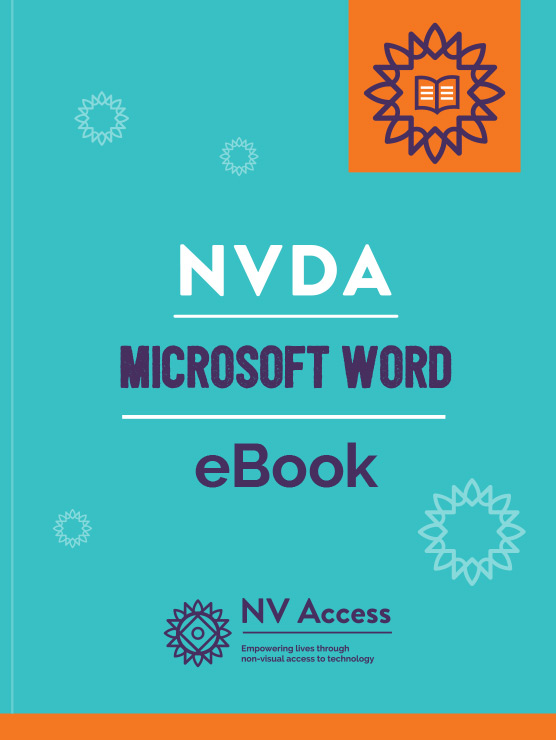 All available in The NV Access shop.
The NVDA Productivity Bundle
For $199 AUD (roughly $130 – $140 USD), the NVDA Productivity Bundle is a suite of training and support. This includes NVDA (with it's user guide and quick start guide to get you going), plus:
Basic Training for NVDA (eBook)
Microsoft Excel Training for NVDA (eBook)
Microsoft Word Training for NVDA (eBook)
Microsoft Outlook Training for NVDA (eBook)
3 Hours of NVDA Telephone Support
The NVDA Productivity Bundle is perfect for funded plans or Corporate use. Everything you need is in one, simple purchase. The NVDA Productivity Budnel is attractive for individual users as well. It comes at a great saving compared to buying each element on its own.
(Not just) Telephone support
NV Access are pleased to offer 24/7 live support.
It can be purchased in as little as ½ hour blocks. There are 3 hours in the NVDA Productivity Bundle. Support is available 24/7. For telephone, we offer local Australian and US Telephone numbers. Or contact us and we'll ring you or use a service of your choice (eg Google meet, Teams, Teamviewer, Zoom etc).
NVDA Expert Certification
The NVDA Expert Certification is an exam which is free for anyone to sit. It comprehensively tests you on your knowledge and skills with NVDA.
Once you pass the exam, if you wish to purchase the certificate and listing on our list of experts, the cost is $100 AUD (roughly $60 – $70 USD). There is a 50% discount for those updating.
And for those needing help, the list of NVDA Certified Experts is a great place to look for a local expert to help you.
Sean: The Add-on Store
The add-on store is a planned NVDA feature, which allows browsing, installing and automatically updating add-ons from within NVDA.
NVDA add-ons are additional packages that can be downloaded and installed into your copy of NVDA to enhance existing functionality or add additional features. Example add-ons include the ability to remotely control a copy of NVDA, translating text with Google Translate, braille displays and speech synthesizers. Add-ons are created by the NVDA community and other external authors.
Historically, NVDA users have had to browse websites or use add-ons, not directly run/developed by NV Access, in order to get information about, download, and install add-ons. For a long time, easier manual updates for add-ons, and automatic updates for add-ons have been desired by NVDA users.
Stay tuned for further updates about the add-on store.
Corporate use
Information for Corporate and Government users
NVDA is used in many corporate and government settings. Corporate users often have special requirements. We are pleased to be able to work with them to get the information needed before rolling out new software.
Our Corporate and Government page lists a lot of information, including:
Corporate support contracts
Customising NVDA to your specific software
NVDA Expert Certification
WCAG 2.0
Our Voluntary Product Accessibility Statement
Specific Government initiatives and programs
NVDA License agreement
Information on Open-Source software
NV Access Corporate Structure
Internet access
Collected information
Privacy Policy
Security
NVDA Log files
Reporting potential issues
NVDA Add-ons
Secure Environments
Deployment of NVDA
We are often asked about Internet access and collected information. We are pleased to advise that NVDA does not require internet access at all. NVDA will work perfectly fine without an internet connection. If allowed to check for updates, it sends a small amount of non-identifiable information. This includes the current versions of Windows and NVDA. This allows us to check if there is a newer compatible version. No personal information is stored or sent anywhere.
Full details on the Corporate and Government page
Open Source software
NVDA as downloaded from www.nvaccess.org contains only code written, or directly checked and approved, by NV Access.
You can verify this by checking the digital signature in the "Digital signature" tab of the file properties.
Microsoft use open source: code, including in Windows: https://opensource.microsoft.com/
A quote from Google: "Bringing all the value of open source to Google and all the resources of Google to open source" https://opensource.google/
Many governments also mandate an Open-Source first policy. This includes the US, UK and Australian governments. More information and links to those policies on the NV Access Corporate and Government page
Using NVDA to test for accessibility
In short, yes you can! Many organisations use NVDA as part of their testing toolkit. In these situations, features such as the Speech & Braille Viewers and log can all be useful.
It is important to note that NV Access is not a web accessibility company. Please do liaise with companies such as Intopia, Tenon.io, Deque, WebAIM, etc. for expertise.
If you find NVDA useful to your business, please consider donating. Or contact us to discuss how you can support our work.
Michael Curran: Why NVDA?
Everyone has a right to participate and contribute to society. NVDA helps hundreds of thousands socialize, access education & employment.
In 2006 I asked why there was no free screen reader for Windows?
Why did we as blind people have to pay thousands of dollars for thesame access as anyone else?
Why couldn't we, as the blind community, take the problem into our own hands and fix it?
I was willing to take that first step, but always hoped that the community would come with me – And it has.
NVDA is not just NV Access, it is an entire community, a movement. Over 100 people regularly contribute code and or documentation updates. Many more helping translate NVDA into over 55 languages – all voluntary!
The vast majority of contributors are blind and are users of the product. This has allowed users to have their own say in the product's direction. Over the years, we have seen community members grow from curious school-age contributors to respected employees of tech giants (e.g. Google, Microsoft).
It is humbling to see community get behind NVDA, make the project truly theirs & together with NV Access, ensure independent access to computers for blind & vision impaired people, no matter their language, location or economic status.
Community
Join the community
There are many ways you can join in and be part of the NVDA community!
The main international E-Mail list. Other email lists and resources. Our developer e-mail list Raise or research issues or contribute code on GitHub Translating NVDA
If you are coming over to NVDA from Jaws, there is a guide to Switching from Jaws to NVDA.
And of course, one of the biggest ways you can contribute is by spreading the word. Both about NVDA, and by being a champion for accessibility in general.
Contacting NV Access
There are many ways to reach us. You can Email us.
We are quite active on social media:
You can also follow our
In-Process blog
.
Thank you for coming to our session and checking out this info. We hope you got something from everyone. If you do have any questions, please don't hesitate to reach out!