Have you been looking for a way to make a genuine difference in the world?
WE NEED YOUR HELP!
Technology advances at such a rapid pace! Because NVDA makes regularly updated third party programs accessible, (like Microsoft Office): we need to keep up-to-date with them. If we stopped now, our users would eventually be left in the dust, with access to only the tired, clunky, outdated versions of their favourite computer programs.
We believe everyone should have equal access to the latest technology.
The ability to move with the times and be on a level playing field with the sighted community is crucial to the success and competitive advantage, which blind and vision impaired people deserve.
Why Support Us?
Hi, We're Mick & Jamie, founders of NV Access.
We are totally committed to our work because we're blind too! So we know first hand why the world desperately needs what we offer.
We're university educated. We've grown our charity software company from the ground up over 10 years to become the second most popular screen reader in the world. We've been invited to speak all over the world.
And honestly, there is no way we could have achieved everything we have without screen reading software.
While growing up in Australia, we were lucky enough that our families could afford the leading software on the market, which costs thousands of dollars. That was back in the day where there was no NVDA, so if you couldn't afford to pay big bucks, you had no way of independently using a computer. Imagine if we hadn't been lucky enough to afford it? NVDA wouldn't be here today, and millions of lives would have been held back. We believe there are millions of blind and vision impaired people just like us, with amazing gifts to offer the world. But some may not be able to realise their potential without a free screen reader, due to financial, language and location barriers. NVDA has the power to not only change individual lives, but create a ripple effect of positive change around the world, by empowering our users to in-turn change the lives of those around them!
Help us transform lives
If you have the means, no matter how big or small, please consider making a donation.
EFT Bank Transfer
If you would prefer to donate to NV Access via a bank transfer, please use the following account details, using the reference/description of "donation". If you require a tax-deductible receipt, please contact us and provide us with evidence of the transfer.
| | |
| --- | --- |
| Bank: | St. George Bank(Robina branch) |
| SWIFT code: | SGBLAU2S |
| BSB and account no.: | 114879 – 466910487 |
| Routing number: | 021 000 021 |
| Account name: | NV Access Limited |
| Bank telephone: | +61 2 9155 7800 |
| Bank address: | 4-16 Montgomery Street, Kogarah, NSW 2217, Australia |
Please note: Australian banks no longer accept cheques (checks) from non-Australian banks.
---

If you would like to encourage others to follow your lead and donate, we have a donor badge you can use.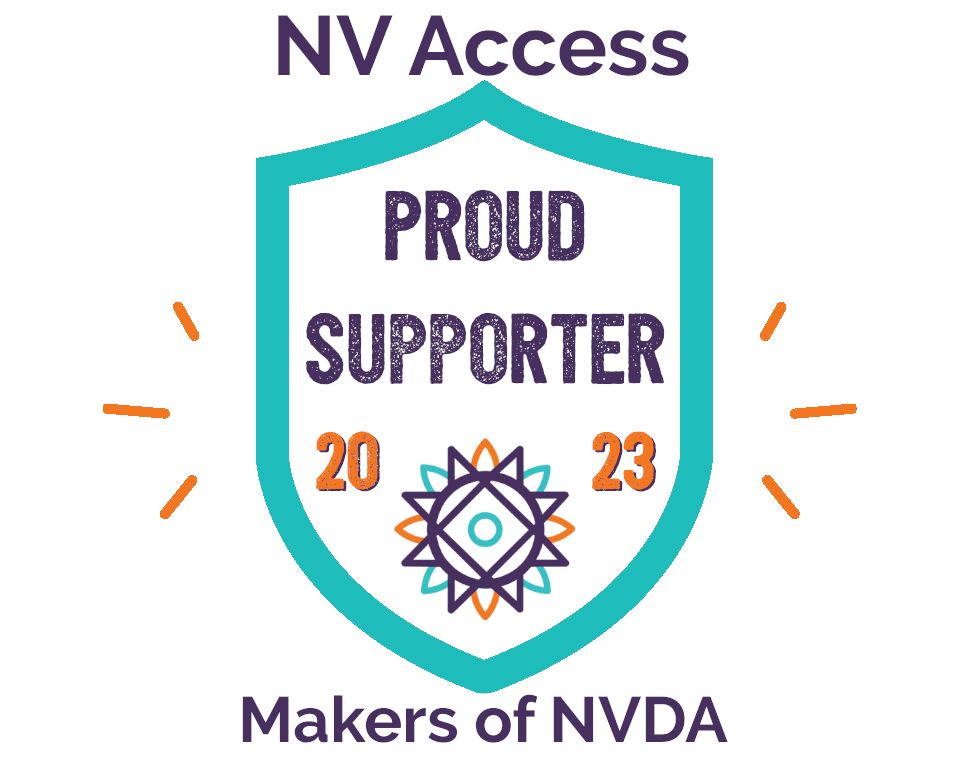 What our users say
"I am totally blind, would be unable to use any computer if it wasn't for NVDA. I could never afford to buy commercial screen readers. NVDA enabled me to become rather advanced in using and maintaining and repairing computers. I also found NVDA adapted far faster to new technology than any other screen reader. Thank you, NVDA!
– Deon, South Africa
Equal Access
Imagine what your life would be like without access to technology. Help us to ensure that everyone has equal access to learn, grow and achieve their potential!
Remove Barriers
We ensure the most disadvantaged people are supported — our free software removes the location, language or financial barriers that normally hold people back.
Minorities
We support and empower minority languages that others don't support, or make very expensive to access, such as Burmese and Icelandic. Ensure no one gets left behind!
Create Opportunities
Stop blind and vision impaired people from being locked out of jobs, schools and universities due to the normally high cost of paid screen reading software.
Less Resources
Being free can mean there is less strain on governments to purchase expensive software, so tax-payer money can be used more effectively.