Join the NVDA
revolution!

Finally, a

Fast, Functional

& Totally Free

Screen reader.
There is a better solution

than spending thousands of dollars on other commercial products!
We're free by principle, not by merit!
We strive for a world where EVERYONE has equal access to the life changing benefits of technology — not just the privilege.
If you believe in that too, join us!
Here's why NVDA is the secret formula you always wanted…
Affordable
100% free to use globally, so you never have to worry about how you're going to afford screen reading software again!
Simple
Quick, simple, no-fuss installation, so you can start using the screen reader faster!
Fast
Fast, light-weight and small footprint ensures superior stability, reliability and less crashes, so you're more productive!
Intuitive
An easy, intuitive and comfortable experience to use, so you'll have a stress-free, enjoyable time using your computer.
Functional
Just as powerful and functional as the paid screen reader alternatives, so you'll never have to sacrifice on quality.
Portable
Portable on a USB stick, making your life so much easier! Great for easily using computers other than your own, on the go!
International
Available in multiple languages. Great if you speak a minority language where the options are limited or expensive.
Open Source
Our open source community develops add-ons and also contributes directly to NVDA itself.  This makes NVDA a truly user-driven project.
Peace of Mind
Gives you peace of mind that you can always stay up-to-date with technology and never have to worry about affording costly updates.
Ethical
Feel good that you're standing behind the most ethical screen reader available, developed by the blind for the blind.
Features
NVDA allows blind and vision impaired people to access and interact with the Windows operating system and many third party applications.
Major highlights include:
Support for popular applications including web browsers such as Mozilla Firefox and Google Chrome, email clients, internet chat software, music players, and office programs such as Microsoft Word and Excel
Built-in speech synthesizer supporting over 55 languages, plus support for many other 3rd party voices
Reporting of textual formatting where available such as font name and size, style and spelling errors
Automatic announcement of text under the mouse and optional audible indication of the mouse position
Support for many refreshable braille displays, including input of Braille via braille displays that have a braille keyboard
Ability to run entirely from a USB flash drive or other portable media without the need for installation
Easy to use talking installer
Translated into more than 50 languages
Support for modern Windows Operating Systems including both 32 and 64 bit variants
Ability to run on Windows logon and other secure screens
Announcing controls and text while interacting with gestures on touch screens
Optional Telephone Support and comprehensive Training Material available at very low cost
Enthusiastic and helpful user community
System Requirements
Operating Systems: all 32-bit and 64-bit editions of Windows 7, Windows 8, Windows 8.1, Windows 10, Windows 11, and all Server Operating Systems starting from Windows Server 2008 R2.

For Windows 7, NVDA requires Service Pack 1 or higher.
For Windows Server 2008 R2, NVDA requires Service Pack 1 or higher.

NVDA can also run on ARM versions of Windows 10 and 11.
Memory: 256 mb or more of RAM
Processor speed: 1.0 ghz or above
About 90 MB of storage space.
NVDA Logo®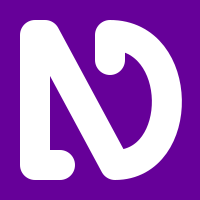 The NVDA logo® is a stylised blend of the letters NVDA in white on a square purple background. There is a vertical line on the left with a rounded hook to the right at the bottom as if starting to form the bottom corner of a "D". Then from the top-left, a straight diagonal line comes down to the right. Next, a line curves in a semi-circle out to the right then back up to the top. The line finishes in a downward hook with a curved end. The vertical and diagonal lines make the first part of the letter N and also the letter A (without the crossbar). The diagonal and curved lines form a V, and the curve is the right part of the D.
For a description of the NV Access logo®, please visit the About NV Access page.
Get An Education
NVDA has helped people get an education and lead productive lives.
Its portable nature makes it so easy to use school and university computers in seconds!
Hear from one of our users
"NVDA has transformed my life. Although I am still a high school student, I have been able to win Model United Nation conferences, achieve distinctions in mathematics and science related competitive examinations and be academically oriented, largely due to the powers and abilities of NVDA, at no cost."
— Bhavya, India
Find Employment
Never have to worry about being held back from job opportunities again!
NVDA takes the financial barriers away from your chances of getting a job.
Hear from one of our users
"An issue is always looking for new work. Companies never hire us because they do not want to bear the cost of the screen reader. Making use of NVDA allows me to enter the labor market without requiring the company to bear the costs acquisition of a paid screen reader. NVDA allowed me to have many benefits."
— Fernando, Brazil
Be Independent
Daily errands are no longer a hassle thanks to NVDA.
Easily pay bills and manage your banking, do online shopping, order groceries and so much more!
HEAR FROM ONE OF OUR USERS.
"I have one client who can now manage her bank account and bills independently online, and this gives her such a sense of control over her life! I have others that can now send and receive emails instead of having someone else do it for them. NVDA allows everyone access to electronic information which is so very critical in today's world!"
— Jessica, USA
Assistive Tech Instructor
Donate to NVDA
The NVDA screen reader allows some of the world's poorest blind people access to computers, and a way out of poverty.
If you have the means, no matter how big or small, please become a marvellous monthly donor or make a one-off donation, before downloading NVDA.
Transform Lives today