There are several exciting things to report this week – a new beta (two, in fact!), and new training material, with a discount! Plus our annual NVDA Satisfaction Survey is on again.
NVDA 2021.1 Beta 3
NVDA 2021.1 Beta 3 is now available for download and testing. As with Beta 1 reported in May, this is a pre-release version of NVDA. So, for many users, we recommend keeping NVDA 2020.4 installed and trying out a portable version of the beta. So, what's new in this beta?
Changes from Beta2:
Fix for a rare issue causing NVDA to fail to restart after update
Fix for Twitter app navigation with J/K keys
Fix focus changes in Microsoft Word 365 Online not announced when using Edge with UIA
Updates to translations

Changes from Beta1:

In the new Chromium based Microsoft Edge, text fields such as the address bar are now announced when empty
eSpeak-NG now supports Cantonese and Mandarin again
eSpeak-NG has been reverted to an older version to resolve issues with corruption after speaking certain characters
Updated Unicode Common Locale Data Repository (CLDR) to 39.0
Fix for previously supported Seika braille displays, adds support for the Seika Notetaker braille display from Nippon Telesoft
Updates to translations
For full details on everything new, please check out the NVDA 2021.1 Beta 3 release announcement.
Add-on updates
NVDA 2021.1 is incompatible with older add-ons. Once we knew this, we took the opportunity to incorporate several breaking changes. These include a refactoring of parts of the code (updating and rewriting), and an update to wxPython 4.1.1. wxPython is the toolkit which provides the interactive elements of NVDA. That is, the buttons, settings dialog windows and the checkboxes in them, for instance.
As with NVDA 2019.3, the add-ons community has jumped on the challenge. Everyone is keen to ensure a smooth transition with timely add-on updates. There is a page detailing all the main add-ons and their status at: https://addons.nvda-project.org/addons/nvdacompat.en.html
At the time of writing, I'm pleased to advise that 50 out of 88 Add-ons, or 57%, have been updated to be compatible with NVDA 2021.1. We anticipate this number to keep growing as the release draws nearer.
We know many users enjoy popular synthesizers from Code Factory, Tiflotecnia and Acapela. I'm happy to confirm they are all aware of the changes and keen to look after their customers. Updates are being worked on for Eloquence, Vocalizer or Acapella voices.
If you use other add-ons not listed on the main site, please check with your vendor or developer directly. Also, do feel free to encourage them to list their add-ons on the official site. This central repository will make it much easier for other users to find. Instructions for requesting a review of your add-on are available on the main page at: https://addons.nvda-project.org/index.en.html
Survey
NV Access is pleased to invite you to participate in the NVDA Satisfaction Survey 2021. As in previous years, this is a simple, three-question survey. The survey is open to NVDA users and testers around the world. We encourage everyone to complete the NVDA Satisfaction Survey 2021. The survey will be open until the 2nd of July 2021. Please do participate, and share with our thanks!
Training material updates
Basic Training for NVDA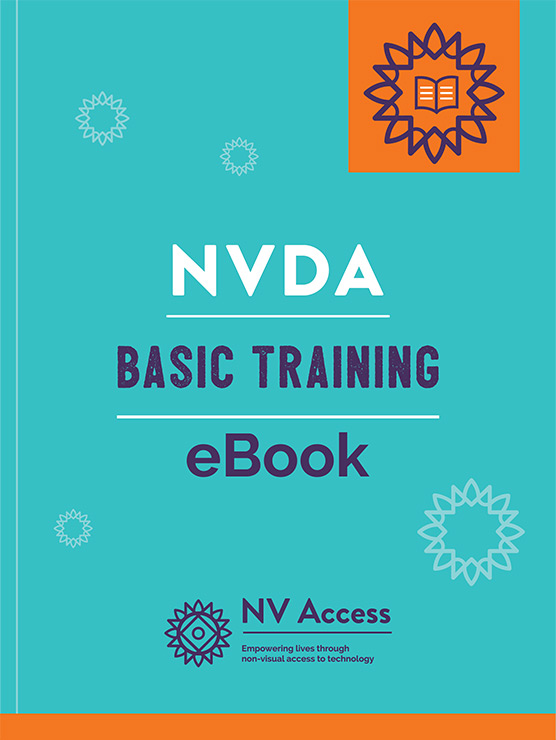 This week we are pleased to share with you not one but two updates to our training material. The first is an update to Basic Training for NVDA. Basic Training is our flagship module. It is the key way many NVDA users become proficient with the screen reader.
This update brings many NVDA commands into line with the latest NVDA updates. It also introduces several features not previously available in official training material. We are happy to bring users a new topic on using OCR. We've also introduced a glossary of terms at the end to help users refer back to information later on.
Basic Training for NVDA also turned 5 this year. It was back in April 2016 we released this first module in our series to great acclaim. To celebrate, we're pleased to offer Basic Training for NVDA at 50% off for a limited time. Please note: This offer is for the electronic text version while we work on updating the other formats. This is a great deal for both new users and those who have purchased earlier versions of the module. The electronic text version contains the material in four formats so there's something for everyone. The formats included are: A Microsoft Word document, a HTML Web page, an ePub eBook, and Kindle KFX.
Microsoft PowerPoint with NVDA
Microsoft PowerPoint with NVDA is designed to work through all the features to create and run presentations using PowerPoint. Concepts range from getting started with PowerPoint to advanced skills such as setting slide timings, adding live captions and presenting online.
The update to the PowerPoint module was only a couple of minor corrections. Those who have purchased it previously can download the update for free by going to Your NV Access Account Downloads Page and downloading the material again.
If you haven't previously purchased any of our training material but would like to build up your skills, now is a great time! If you don't use Microsoft Office, then Basic Training for NVDA is on sale right now. If you'd like to build your skills using NVDA, as well as Microsoft Office, the NVDA Productivity Bundle contains Basic Training for NVDA, our four Microsoft Office modules (including the updated PowerPoint material) and telephone support. The NVDA Productivity Bundle comes at a discount off buying the items separately, so is a great investment in your knowledge.
Generous Donation
Recently we received a very generous donation from Maria. Maria sent us a note explaining why she found NVDA so useful and decided to donate:
Hi guys, thanks. Thank you so much for making such a great screen reader for free. NVDA really helps me when I use my own Windows laptop or my work laptop, and I know how much it must help a lot of other people around the world. Until a few years ago I didn't have bucks so I know how prohibitively expensive other screen readers are, and how hard it is to get funding for them. Please keep up the great work!
Thank you so much Maria! Donations such as yours help us to continue our work, providing NVDA for free to anyone around the world who can make use of it! Kind words such as yours make us enthusiastic to keep improving and distributing NVDA it as long as it is useful to people like you!
If you'd like to donate, we would be most grateful. You can find all the information on how to contribute on our Donation page.
That's all for this week. So, don't forget, there are two pieces of homework this week!
1) Please do participate in our NVDA Satisfaction Survey 2021, and: 2) Please do try NVDA 2021.1 Beta 3!
Bonus homework: Please let us know how you find the beta or any issues you encounter!