It's the end of July already – 2021 is moving! Let's start with something else which is disappearing fast:
Basic Training Sale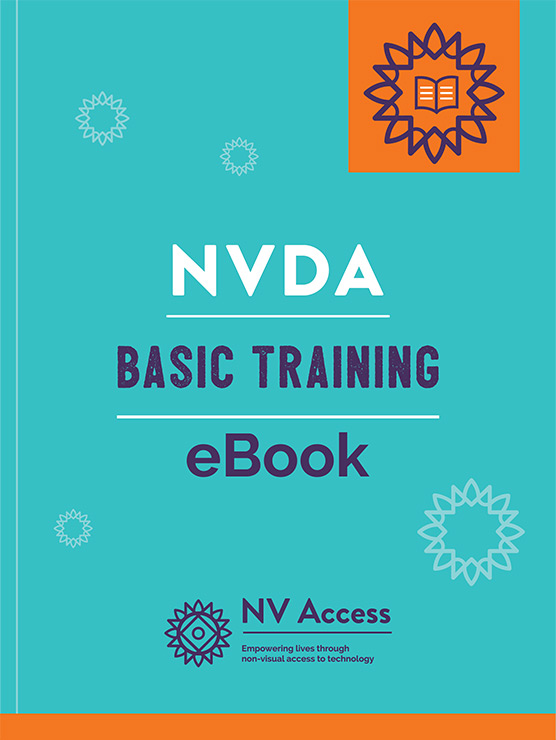 The response to our Basic Training for NVDA sale has been phenomenal. Many people have taken advantage of it and are enjoying improving their skills with NVDA. However, the sale must come to an end after this weekend. So if you have been considering it, now is definitely the time. The electronic text version of the material comes as a zip file. It includes the content as a web page, a Microsoft Word file, an ePub eBook, and a Kindle KFX file. So you can use it with whichever device or program you prefer. This weekend is your last chance to get Basic Training for NVDA at 50% off.
Thanks to Elston and Staff
We'd like to say a big thank you to Elston and their staff for their generous support this month. Contributions like this are special. It's not just the organisation donating but the staff themselves seeing the merit in NVDA. Their support helps us in our mission. Thank you to the staff at Elston

If you'd like to contribute to our mission as well, you can help us ensure that NVDA is available for free to anyone who needs it, anywhere in the world. You can purchase training material or telephone support from our shop. You can make a one-off donation, or why not consider becoming a regular monthly contributor? The other thing that really helps, is simply spreading the word about your favourite screenreader. It's free and might save someone hundreds or thousands of dollars!
2021.1 feature insight: LibLouis
Let's have another look at something new in NVDA 2021.1. This time, we've got "Updated liblouis braille translator to 3.17.0." LibLouis itself isn't new, and nor is it's use in NVDA. But what is LibLouis? Good question! LibLouis describes itself as: "The Liblouis software suite provides an open-source braille translator, back-translator and formatter for a large number of languages and braille codes. It is a set of libraries designed for use in any of a number of applications, both free and commercial.". Basically, is what NVDA uses to turn the text on screen into the braille dots on a refreshable Braille display. NVDA relies on synthesizers like Windows OneCore and eSpeak-NG to convert text into sound. LibLouis turns that same text into Braille. We try to update the build of LibLouis we use regularly to ensure NVDA has the latest features. So when NVDA gets a new Braille table, it's thanks to an update to LibLous and the good work of the people over at that project. This update includes a number of new braille tables: Belarusian literary braille, Belarusian computer braille, Urdu grade 1, Urdu grade 2
Just like NVDA, LibLouis is an Open-source project. In fact, eSpeak-NG, the default synthesizer on Windows 7 and 8, is also Open-source. Open-source is an exciting and increasingly popular area of software. So what is Open-source software, and is it safe?
Open Source Software
The Open Source movement define the term simply as: "Generally, Open Source software is software that can be freely accessed, used, changed, and shared (in modified or unmodified form) by anyone". Let's also read from the explanation on our Corporate and Government page:
"NVDA is open source. This means that the source code is available for anyone to view. This is beneficial as it enables people outside the core developers to comment on bugs and offer suggestions for improvement. The final, compiled product contains only code which was either written, or directly checked and approved, by NV Access. Provided you download from https://www.nvaccess.org/ (the Official Site), you can be sure that you are downloading an official version of NVDA which is unaltered and free from malicious software.
You can also verify this by checking the digital signature in the "Digital signature" tab of the file properties.
While anyone could potentially download the NVDA source code and edit it, only NV Access can upload files to the Official Site. There is no more inherent risk with downloading NVDA from the Official Site than there is downloading a closed source program from its official site.
We work closely with partners including Microsoft, Google and Adobe, and they work with us in the knowledge of NVDA being open source. Microsoft uses Open Source software themselves, including various components built into Windows itself. Microsoft also have a page on Open Source Security which starts of with a section on the benefits of open source. Similarly, Google Open Source is a Google initiative "Bringing all the value of open source to Google and all the resources of Google to open source".
The US Government runs Code.gov, a website documenting US government open source initiatives. US Government policy specifies that "Agencies must open source at least 20% of all new custom code created after August 2016.". Similarly, The UK Government policy states: "Releasing government code under Open Source licenses increases transparency, collaboration and encourages good practices. The UK government made a commitment to making code open source by default at the Open Government Partnership Summit in Paris 2016."
That's all for this week. Remember, if you're interested in taking advantage of the 50% off sale on Basic Training for NVDA, you need to jump on board this week. If you do, why not share your favourite tip or thing you've learnt in the NVDA user group.