Welcome to the mid-November In-Process. Where is the year going?
NVDA 2023.3
Last edition, we covered the release of NVDA 2023.3 and some of the new features. How are you finding the new release? Let us know! Reports from users have been positive. We are always excited about the ways NVDA improves access to technology for so many people. This is not a static goal. Technology is ever changing, as are the needs of people around the world, and we are proud to be able to contribute. Remember you too can aid in making a difference through a one-off or regular donation.
Also a reminder to restart your PC after updating software, whether NVDA or anything else. We often get reports of odd behaviour around release time. NVDA not reading things it used to, or keys not doing what they should, etc.. These issues almost always disappear after restarting the PC (if they don't, please do file an issue). Although commonly seen by NVDA around NVDA updates, it is actually to do with how Windows works. When a program is updated, all the files it needs have to be released from memory and reloaded. Sometimes Windows doesn't fully release everything it needs to.
2023.3 Fixes
Over the last couple of editions of In-Process, we've talked about new features in NVDA 2023.3. These include the new Braille features, audio updates and refreshable OCR. This time, let's pull out a couple of fixes to issues worth highlighting. Firstly, two which won't affect all users, but their resolution will be a great relief to those who need them:
In edge NVDA is once again able to read context menus of downloads in Microsoft Edge
NVDA once again announces calculation results in the Windows 32bit calculator on Server, LTSC and LTSB versions of Windows
Next, let's have a look at the updates to the add-on store. There are so many, let's give it its own heading:
Updates to the Add-on Store
There have been a number of fixes and features which involve the add-on store this release. Specifically, there is one new feature and six fixes. This is not surprising, The add-on store was a major new feature introduced in 2023.2. So, what is new? Let's round them up:
Feature: Installed add-ons will now be listed in the Available Add-ons tab, if they are available in the store
Fixed bug where unchecking "include incompatible add-ons" would result in incompatible add-ons still being listed in the store
Add-ons blocked due to compatibility reasons should now be filtered correctly when toggling the filter for enabled/disabled status
Fixed bug preventing overridden enabled incompatible add-ons being upgraded or replaced using the external install tool
Fixed bug where NVDA would not speak until restarted after add-on installation
Fixed bug where add-ons cannot be installed if a previous download failed or was cancelled
Fixed issues with handling incompatible add-ons when upgrading NVDA
That's a lot! What do you think of the add-on store? Do continue the conversation in the
NVDA chat group
.
Queensland Gives
Earlier this year, Queensland Community Foundation awarded our founders, Mick and Jamie, the Philanthropy Innovation Award. This week, Jamie and other 2023 philanthropist of the year recipients were back with QCF. This time, for the organisation's end of year celebration and launch of their new name. QCF is now Queensland Gives. You can find out more about them from their new Queensland Gives website.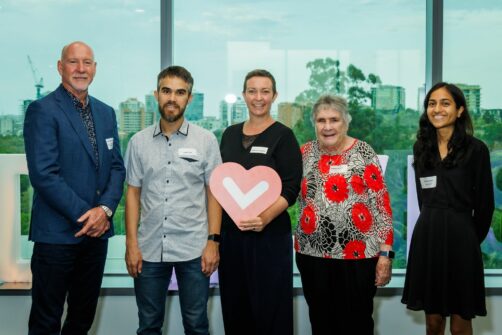 On-Screen Keyboard
Do you have a Windows tablet or convertible laptop? If you do, you may have encountered the on-screen keyboard. This works like the on-screen keyboard on your smart phone. It provides a way to type on screen without using a physical keyboard. We continue to recommend touch typing on a physical keyboard as the most efficient way to enter information. However, sometimes you may need the convenience of travelling without a keyboard. In that case, NVDA has several options you may find useful. "Touch Interaction" is an NVDA settings category which is only available on Windows 8 or later with touch capability. It currently contains two settings:
Enable touch interaction support
This checkbox enables NVDA's touch interaction support. If enabled, you can use your fingers to navigate and interact with items on screen using a touchscreen device. If disabled, touchscreen support will be disabled as though NVDA is not running. This setting can also be toggled using NVDA+control+alt+t.
Touch typing mode
This checkbox allows you to specify the method you wish to use when entering text using the touch keyboard. If this checkbox is checked, when you locate a key on the touch keyboard, you can lift your finger and the selected key will be pressed. If this is unchecked, you need to double-tap on the key of the touch keyboard to press the key.
That's all for this week. We'll be back in a couple of weeks with more news and tips. In the meantime, do chat with us on Mastodon, or in the NVDA user group.